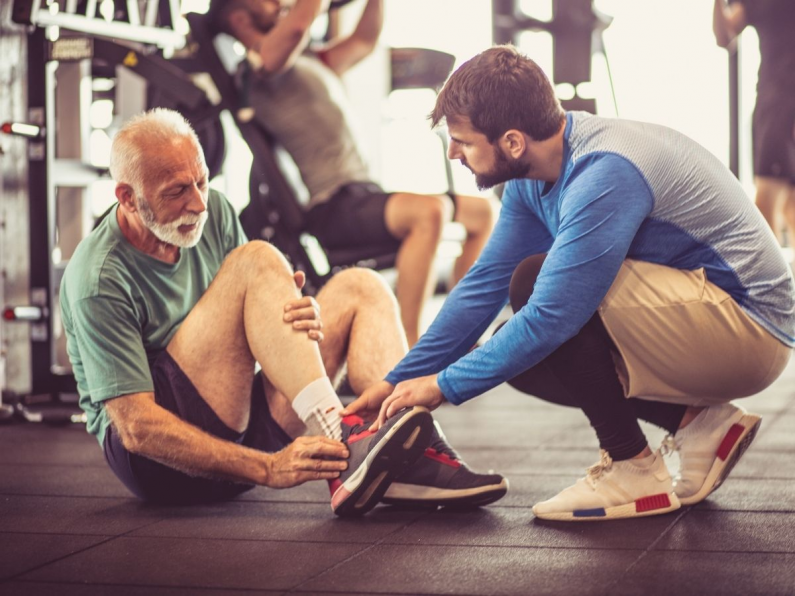 As a personal trainer, your entire career is built around trying to improve your clients' lives. Sadly, accidents happen, which is why protecting them, yourself and your employees with a suitable insurance package is vital.
Personal trainer liability insurance is essential for personal trainers to protect themselves and their businesses from financial losses. It covers damages and claims that may arise from professional services, including injuries that may occur while working with clients.
Many insurance companies offer personal trainer liability insurance on a monthly basis, making it a more affordable option. Having insurance can also establish credibility with potential clients, demonstrating a professional and responsible approach to personal training. In summary, personal trainer liability insurance is a critical investment for any personal trainer looking to safeguard their business.
The best insurance packages will give you comprehensive coverage against the following features:
- Public liability will protect you against accidental damage caused to the gym, equipment, and other areas by yourself or a client.
- Personal accidents will cover the costs of your treatments from injuries and can extend to cover your earnings too.
- Professional indemnity will protect you if a client tries to file a charge after sustaining an injury.
- Employer's liability will protect you in cases where one of your employee personal trainers gets injured at work.
- Equipment insurance will protect any products you use from damage or, more commonly, theft.
The exact details of an insurance package may vary from one firm to the next, not least when you are looking at different countries. Here are 20 of the best insurance providers for personal trainers in the UK, USA, Canada, Australia, and beyond.
1 - Financial Fitness - UK
fitpro.theffg.co.uk
Financial Fitness isn't only an insurance company. It is a service that offers all-in-one packages to support their clients with running their businesses. Memberships can include accountancy, self-employment help, and more. Crucially, though, the backbone of the service comes from the excellent insurance for personal trainers. Their policy covers public liability, commercial insurance, and everything else a personal trainer or fitness business owner could require, including online personal training.
2 - Insure4Sport - UK
www.insure4sport.co.uk
As a part of the Ripe Group, Insure4Sport is, unsurprisingly, dedicated to workers within the sports industries and is considered the UK's most trusted sports-specific insurance firm. Its insurance for personal training services is geared towards the needs of a modern trainer, providing cover for online sessions and traditional offline training. The award-winning insurer's history dates back to 1998, making it one of the longest-serving UK providers.
3 - Balens Insurance - UK
www.balens.co.uk
Balens is an insurance company that works across a wide selection of health care industries. The insurer offers fully customisable insurance plans for personal trainers under its fitness professionals sector. Likewise, it provides services for businesses in personal training and fitness, including those that partner with therapists and related services. Public liability cover is up to £6m as standard.
4 - AXA - UK
www.axa.co.uk
AXA is one of the largest insurance firms in the UK, and its personal trainer insurance packages are particularly impressive as they cover all legal fees and offer a 99% payout rate on claims. It falls under the broader category of business insurance, allowing fitness professionals to build a plan aligned to their needs, extending to insurance outside the UK if required.
5 - Guild Insurance - Australia
www.guildinsurance.com.au
Guild Insurance's plans for 'exercise professionals' is ideal for personal trainers. In addition to expected items, it covers trainers when working in a client's home and giving first aid. Their policy allows their clients to act with professionalism and care at all times without fear. At the same time, a 24/7 helpline and dedicated service for students who are not yet fully qualified add further incentives for Australians to choose this highly reputable provider.
6 - Marsh Advantage Insurance by PAA – Australia
www.physicalactivityaustralia.org.au
Physical Activity Australia has been supporting personal trainers across Australia for over 30 years. PAA is partnered with
MARSH Advantage Insurance
to provide a dedicated service for their members. Both public liability and professional indemnity insurance are covered. They offer 'Sprint' and 'Marathon' packages depending on the size of the trainer's operation and area of fitness. 
7 - Express Insurance - Australia
www.expressinsurance.com.au
Express Insurance is a firm that understands that personal trainers often provide nutritional advice too. As such, its services provide cover against dietary plan guidance as well as training plans and injuries. Policy features can include public liability or extend to indemnity, while the company's convenient applications and responsive renewal processes make it a solid long-term choice for busy fitness coaches.
8 - AON - Australia
business-insurance.aon.com.au
AON is one of the world's largest insurance firms, and its Australian services are highly regarded among the best in the fitness industry. Packages fall under the insurance for health professionals section. Their cover can include business insurance, cyber insurance, workers' compensation, and personal accident insurance. Those are all in addition to the public liability and indemnity. Crucially, AON has excellent payout rates and is a trustworthy name in the field.
9 - Personal Trainer Insurance by Holmans - Canada
personaltrainerinsurance.ca
Personal Trainer Insurance is one of Canada's most reputable insurers, not least because Holman Insurance underwrites all plans. The provider places a heavy focus on convenience, providing two distinct levels of service: instructors and gyms. Policies vary greatly, with the latter offering everything from sexual harassment coverage to an unintentional breach of confidentiality. Even those with many employees can be confident.
10 - Sport & Fitness- Canada
www.sportsfitnesscanada.com
Sport & Fitness Canada is an industry-specific insurance firm. Trainers can choose specific packages like Crossfit coverage, personal training studio coverage, or instructor coverage. Quotes can often be turned around within 48 hours while the company is supported by BCRPA, ACE, and Yoga Alliance. Employees, subcontractors and client-caused damages can all be included too.
11 - Netsurance - Canada
www.netsurance.ca
With prices starting at just $20 per month, Netsurance is an excellent option for new personal trainers that do not require some of the more advanced features just yet. That's not to say Netsurance doesn't provide full coverage, as it covers public liability as well as equipment and business matters. Instant quotes and a simple three-step process allow personal trainers to gain coverage and start working right away.
12 - K&K Insurance - Canada
www.kandkcanada.com
K&K Insurance fitness insurance cover for various activities, including personal training, aerobic exercises, pilates, boot camps, kickboxing, and more. Packages also provide coverage for trainers that offer individual and group sessions while protecting insured workers against bodily damage, public liability, medical expenses. However, ensure to check out the exemptions list before completing an application.
13 - Infofit - Canada
www.infofit.ca
Personal trainers of varying experience levels can embrace Infofit's packages as they provide public liability insurance quotes for up to $2m and $5m, respectively. Employer's liability, tenant's liability, and injuries are all covered as standard, while policies can be customised with add-ons, including online personal training and international cover. This tailored approach ensures that members gain the exact coverage they need at the most affordable price. Plans are underwritten by Metrix.
14 - NASM - US
www.nasm.org
The National Academy of Sports Medicine boasts a network of over 1.3 million fitness professionals and 10,000 clubs. They offer three insurance packages for their CPTs underwritten by Next Insurance (Basic, Pro, and Pro Plus). All three packages are highly customisable through optional bolt-ons. NASM's popularity is evident with plans for self-employed personal trainers and health club employees offering quick access to quality and affordable coverage.
15 - ACE - US
www.acefitness.org
American Council on Exercise offers broad protection that covers ACE certified fitness professionals in all situations, from working in gyms to a client's home or even outdoors. It offers both one and two-year liability protection plans, with the former starting at just $172 per annum for $1million of public liability coverage. A fitness instructor insurance ID card offers quick proof of coverage. The underwriter is InterWest Insurance.
16 - Insure Fitness Group - US
insurefitness.com
Insure Fitness Group promotes itself by offering comprehensive insurance for $179 with no hidden fees. As well as public liability and equipment protection, it covers personal trainers against identity theft. Applicants can apply and receive an answer within five minutes before gaining immediate cover and certification. It is also possible to make claims for incidents during your policy term even after the plan has expired. The great news is that aspiring
hybrid and online trainers
can also find a cover for their operations with IFG.
17 - SADLER Sports and Recreation Insurance – US
www.sadlersports.com
SADLER offers a range of insurance products aimed at personal trainers, fitness instructors, sports instructors, dance coaches, and more. Its liability insurance attributes cover their members against injuries sustained by themselves, employees, or clients. This includes falls, damage caused by faulty equipment, and incorrect information. The option to have a Limited Liability Company cover makes it great for self-employed workers, employees, and online trainers.
18 - NEXT – US
www.nextinsurance.com

With a choice of three packages (Basic, Pro, and Pro Plus), NEXT gives users the chance to build a package that reflects their needs as fitness professionals. And this can include the addition of coverage for online training. If you need your online fitness services covered, speak to one of their agents on the phone so that they can give you advice based on your individual needs. The company, which boasts an average client rating of 4.8/5 stars, is licensed coast-to-coast and also protects personal trainers against nutritional-based claims, as well as injuries and other exercise-based disputes. 
19 - IDEA Health and Fitness Insurance - US
www.ideafit.com
While many fitness insurance organisations focus on full-time workers, IDEA is geared towards part-time personal trainers and fitness professionals who have yet to gain their full qualification and new business owners. Packages offer pre-occurrence coverage of between $1million and $2million and annual totals up to $4million. Members are protected against claims of negligence and accidents. While the insurance will cover you globally, claims can only be filed in the US, Canada or Puerto Rico. Check the FAQs and speak to an advisor if you need online fitness services coverage.
20 - Insurance Canopy – US
www.insurancecanopy.com
Insurance Canopy is aimed at small businesses in many fields but is particularly useful for personal trainers. Cybersecurity protection instantly makes it a good option for online trainers but beware that they can cover your live virtual sessions and classes but not recorded exercise instructions. There is also a $5,000 medical bills coverage, in addition to the general liability coverages. Personal trainers can gain coverage from as little as $12.50 per month, while policies are instant and fully customisable.
Summing Up
If you're a personal trainer looking for the best and cheapest fitness instructor insurance, it's important to protect yourself and your clients from any accidents or injuries that may occur during a training session. That's why it's crucial to have professional liability insurance and general liability insurance.
Finding the right insurance provider can be overwhelming, so this list of the top insurance providers offers affordable and customized personal trainer liability insurance options. Whether you need cheap personal trainer insurance or a personalized personal trainer insurance quote, these providers have you covered.
We've covered the benefits of having professional liability insurance, how general liability insurance covers you and your business, and the different options for customized personal trainer insurance plans. With this guide, you'll be able to find the perfect insurance coverage that fits your needs and budget, so you can focus on what really matters - helping your clients achieve their fitness goals.