As we head towards the end of 2022, you may want to consider getting more clients for your personal trainer business. Google Ads is a great platform where you can target potential clients actively searching for a personal trainer.
There are two types of campaigns you can set up on the platform. Our guide,
how to set up a Google Ads smart campaign
took you through the process of quickly getting started with the Google Ads platform. However, if you feel that the Smart campaign is too basic for your personal trainer business, we have put together a guide that will take you through the process of creating an advanced Google Ads campaign where you can utilize all of the platform's features has to offer.
Additionally, depending on where you are in the world, we will let you know how you can get free Google Ads Credits. This means now is the best time to try out Google Ads.
Get Free Google Ads Credit
1. Click this link,
to get your free Google Ads Credit.
Add your email address, and select "get the coupon."
2. In around 2 minutes, check your email, and you will receive your email from Google with the voucher code.
Create your Google Ads Account
You must create your Google Ads account now that you have your code. Firstly click on this link (https://ads.google.com/intl/en_gb/getstarted/) and select the "Start now" button.
1. You will have the option of either using your Gmail email account (if you have one) or the opportunity to create an account. Here is an account we made earlier
2. Google will now allow you to go through a campaign setup process.
For this guide, we first want to add our voucher code. So select "switch to expert mode."
3. Create an account without a campaign
As we want to add our voucher before we make a campaign, you will want to select "Create an account without a campaign."
4. Now time to explore your account. Almost there. Now select "explore your account."
5. Add your voucher
Once signed into your account, click the tools icon, and under Billing, select Promotions. Next, select the blue + icon and then your voucher code.
Create Your First Advanced Campaign
Now that we have your voucher added, we can start setting up your campaign. When creating a campaign in Google Ads, the essential components of each campaign our:
Keywords:
These are the keywords your potential customers will search for in Google Ads. So, for example, you may want your advert to show against the keyword "Personal Trainer Near Me."
Advert Copy:
This is your chance to add your skills, products, and packages to the ad content. The ad copy consists of a headline and description. We will go into the other requirements in more detail later.
Extensions:
These allow your ad to stand out on the Google Search results page with unique callouts and even a lead extension so you can capture leads directly on Google.
1. Start a new campaign: Select the + New Campaign button on your Google Ads Dashboard.
2 . You will now see multiple campaign objectives. Select "Leads"
3. Next, you will need to choose how you are gathering leads. Let's assume you have a website with a working form for this walkthrough. If not, don't worry. One great feature of Google Ads is that you can collect leads on your search advert. Select the following: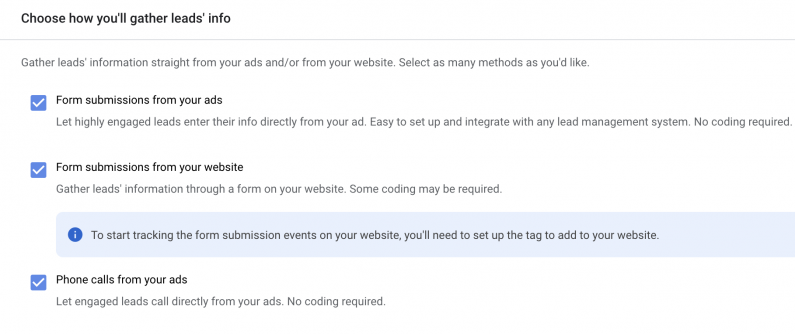 4 . Select a campaign type. This is where you want to advertise on multiple Google Ad networks. Select "Search"
5. Choose the ways you'd like to reach your goal. This step helps customize your campaign set up to focus on settings and features that can help you get the customer actions.
6. The next step is to add the campaign name.
Budgets and bidding
7. Set the average daily budget for your campaign. We recommend starting low, and then when you have confidence with the traffic you are receiving, increase the bid (if you can afford this). So let's begin a £5/$5.
8. The next step allows you to control how you will be charged for your advertising. This is usually on a click and a impression basis. In our walkthrough, we will choose clicks. This means we will be charged for each click we receive.
9. Select "Set a maximum CPC bid limit" and start with a value of £0.49 / $0.49. This means you are willing to spend a maximum of £0.49 / $0.49 for each click you receive. You can change this, if you are not getting enough clicks later.
10. Select "Next"
11. Tick the Search network box only. This is because we want to avoid being shown on the Google Display Network at this stage.
12. Location: This is where you can choose where you want to target people. Select "Advanced Search" You have two options. The first is to search by postcode, and the second by radius. See below the two examples in action.
13. Select "Next."
What are Keywords?
Keywords are words or phrases used to match your ads with the terms people are searching for. So, for example, your potential clients could be searching for:
- Personal Trainer near me
- Personal Trainer New York
- Virtual personal trainer
- Fitness boot camps
- Local fitness help
Additional to this, there are also different match types you can use. Here is a bit more info:
Exact:
[personal trainer] - if a user searches for 'personal trainer', the ad would appear in the search result pages. This match type is used mainly in SEO
Phrase:
"personal trainer" - if a user searches 'cheap personal trainers near me' - your ad will appear in the search results. This provides greater control in terms of spend and can help minimize wastage.
Broad:
personal trainer - if a user searches personal trainer certification, your ad could appear in the search results. While we may occur for more keywords/phrases, we are likely to exhaust spending quickly resulting in a lot of wastage and low-quality traffic, as many keywords the site may appear for may need to be more relevant.
14. It is time to add your keywords, not forgetting the match type. To start with, we recommend that you stick with exact-match keywords
Search Adverts
The following elements make up your Google Ads search advert:
Final URL:
This is your landing page URL
Headline:
30 characters
Description:
90 characters
URL Path x 2:
15 characters each
The dynamic nature of the Google Ads advert allows you to add a maximum of 15 headlines and four descriptions.
15. Use our template (link) to find your fitness business's best headlines and descriptions. Once you are happy, select "done."
16. At the bottom of the page, select "Next" This will direct you to the extension builder. An extension is an additional piece of content you can add to your search ad. For example, for your business, this could be:
- Success stories - Linking to customer reviews
- Prices
- Products
- FAQs
- Phone Number to contact
- Lead form
Alternatively you may want to read
our 5 lead magnet ideas for personal trainers
for inspiration.
17. Call Extensions: By adding your phone number, you can make it easy for potential customers to call you.
18. Sitelink Extensions: This will allow people to click directly into relevant parts of your website, for example, customer reviews and product information.
19. Lead Form Extension: This will allow you to capture leads while your potential customers search on Google. This is perfect if you still need to get a lead form on your website.
20. Once you are happy with these, select next, and you will be shown the final review page. This will list a summary of your campaign. Select "Publish Campaign," and it will be live within 24 hours.
Following these steps will get you set up and started with your first Google Ads campaign, the best thing about this is that you can also get free Google Ads credits to allow you to build you confidence with the platform without using your own money.