As we close another year, it gives personal trainers the perfect opportunity to reflect on the year that has been and look forward to the year ahead of us.
As a personal trainer, you will achieve nothing if you remain still. The best personal trainers are constantly looking to move forward and evolve their
fitness marketing
. To do this, you'll need to be aware of the latest trends and apply the relevant ones to your fitness marketing.
With that in mind, we will reveal the top 10 fitness marketing trends personal trainers might want to implement in 2023.
#1. AI Chatbots
There is only one place to begin, and this is with AI chatbots. Chatbots have been popular for quite some time now, but they've also been highly frustrating. As
Artificial Intelligence advances
, though, chatbots are becoming much more advanced and helpful.
Chatbots are clever enough to know when a visitor opens a sales email or visits your fitness landing page. You can then use a chatbot to trigger a conversation with a prospect when they need help the most.
#2. Social Responsibility
We anticipate that many personal trainers will create content and offer services and events based on their social responsibilities throughout 2023. We have seen many brands do this, and it's a trend that will only become more prominent.
People want to know that they are purchasing from someone who cares about the world around them and their local community. You can demonstrate
social responsibility marketing
in your actions, such as fundraising or choosing eco-friendly methods, and you can market these effectively in your written content.
#3. Inclusive Marketing
Did you know that almost half of all marketers believe that championing inclusion, equity, and diversity means being culturally relevant on social media?
Inclusive fitness marketing strategies
help personal trainers to better connect with audiences across different backgrounds, languages, and cultures.
To create an inclusive marketing strategy, you can conduct a cultural audit of your target audience. This will involve collating data on key demographics, such as employment status, education levels, gender, and age. After completing this task, consider how you can use your current strengths to target under-represented audiences.
A good option is to
partner with influencers
who share similar values or beliefs as your target audience. This can help in terms of building credibility and consumer trust.
#4. Live Video
According to Grand View Research, the
Live Video Streaming market
is expected to hit $224 billion in 2028.
Live video is hugely popular with internet users today. Facebook statistics show that 1 in 5 videos is now a live broadcast, and live video viewers spend three times longer watching the latter.
If you need more than that to convince you, video is also the most popular way for people to learn about new services and products. So, if you're adding a new package to your fitness business, it makes sense to tell people about it with a video announcement.
When a video is accessible live, this makes it much more engaging for the audience. They feel like they are part of the experience and can influence the content rather than being passive watchers.
Live video works particularly well on social media platforms like Instagram and Facebook. These kinds of videos are incredibly attractive to viewers because they are compelled to watch the video for fear of missing out.
#5. Originality Is Key
Originality is another critical trend set to make a monumental impact throughout 2023. Of course,
original content
should be at the centre of
your marketing strategy
now in any case. However, personal trainers must brainstorm fresh ideas to stand out from the competition.
#6. User-Generated Content
User-generated content
is one massive trend you need to get on board with in 2023. After all, when we look for a product or service, we're more compelled to choose something when we see that plenty of others have recommended it and had a good experience, right? That's what user-generated content is all about. It's way more potent than a sales pitch.
There are plenty of different ways you can use user-generated content to your advantage as a personal trainer. For example, you could ask one of your clients to do a video testimonial.
When other people see that your clients have been happy with your service, they will be more inclined to sign up and give it a go.
Other types of user-generated content include Instagram and Facebook posts using a common hashtag, service reviews on your Facebook page, Google My Business Page, or even comments on your YouTube content.
#7. AI to Spot Trends
As you may have gathered, AI is set to have a massive impact on the world of marketing, and one of the ways it's going to achieve this is through trend spotting. You can use AI to find critical trends driving your marketing efforts forward.
There are three critical areas where you can use
AI to spot trends
that might affect your marketing strategy.
To better comprehend your target audience, you can make the most of various
AI trend-spotting methods
, such as machine learning, algorithms, and data models. This data can help personal trainers in marketing to customize, optimize, and target content and personalize the consumer experience.
Marketing professionals worldwide are already reaping the advantages of AI technology, so if you still need to do this, 2023 is the time to do so. These advantages include the following:
• Higher ROI through effective targeting
• Enhanced self-service capabilities
• Boost consumer loyalty and retention
• A better understanding of buyer behavior
• Accurate predictions and trend-spotting
• Smarter, more targeted advertisements
#8. Interactive Content
As a consumer of online content, we're sure you've seen
interactive content
many times, and you may not have even realized it.
As a
fitness business owner
, you need to move away from passive consumption and static content, and instead, you need to develop two-way experiences. Therefore, dynamic content that demands attention is the way forward.
So, what content are we talking about here?
• Interactive videos
• Interactive maps
• Assessments
• Contests
• Calculators
• Games
• Quizzes
The good news is that interactive content like this dramatically benefits the fitness industry. We've seen many personal trainers leverage quizzes and calculators to significant effect.
Interactive content helps you streamline the customer experience, boost brand loyalty, increase conversions and leads, improve customer learning, and boost audience engagement.
#9. Voice Search SEO Tactics
Many people use their mobile phones while they are on the go. They will open Google and use the
voice search function
to find the needed information. This means that people are asking more questions and conversationally engaging with Google.
You need to respond to this by changing how you frame information. Personal trainers in 2023 need to create more conversational content, with question-and-answer formats coming to the fore. That way, your responses should feature near the top whenever someone uses
voice search
.
Now, it looks like voice search is more likely to be linked to local services, so one of the best things you can do to ensure your website and social media pages are optimized for voice search is that you optimize your profiles for the location where you serve your clients and create a Google My Business page.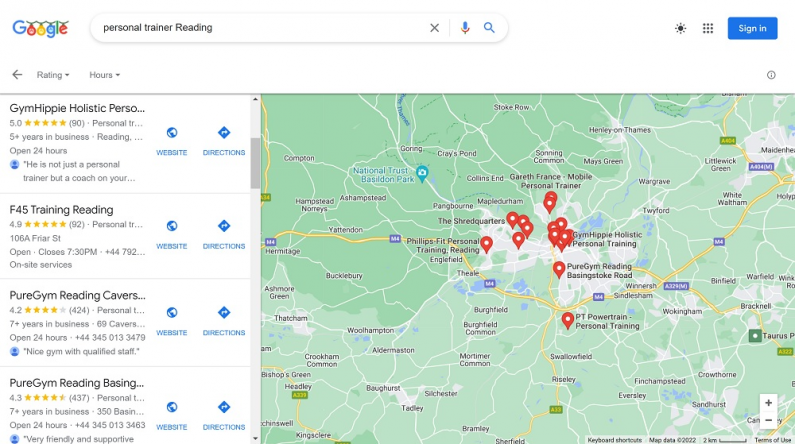 #10. Agile Marketing
Last but not least, we have
agile marketing
. You may have heard about the agile methodology, which has long been popular in project management. It is a manner of working that includes rapid iterations instead of tackling one big project.
We're seeing this approach being applied to marketing. It's all about collaborating in real-time rather than hierarchy and silos. It has been created so marketers can respond quickly and effectively to change.
There are many advantages associated with agile marketing, including the following:
• Better collaboration and transparency through frequent touchpoints and visualized workflows
• More data-driven decisions thanks to the emphasis being placed on experimentation
• More focus on value being delivered to the client and business outcomes rather than concentrating on output and activity
• The ability to provide value to your clients early on in the process and often by grouping people into small cross-functional teams so that you can achieve goals efficiently (if you run a fitness business that's more than a one-person band)
• The flexibility to adapt to changes with ease thanks to iterative planning
Agile marketing methodology for personal trainers
is best used where you work with various team members to create, implement and deliver your marketing content. For example, suppose you employ a writer to complete your blogs or a fitness marketing agency for social media. In that case, you'll benefit from understanding how to apply agile principles to your workflow to prevent any annoyances.
Leverage key marketing trends and watch your brand soar in 2023.
So there you have it: the top 10 marketing trends we expect to see flourish throughout 2023. As personal training becomes increasingly competitive, it's essential to keep on top of the key trends to stand out from the crowd and make your voice heard!