Instagram is a great marketing platform for personal trainers today. If you don't have a strong presence on Instagram, you miss out on a great opportunity. But, where to begin? Well, an excellent place to start is by taking a look at some of the best personal trainers on Instagram at present so you can see how they do things. 
Save time, and build your fitness business with the #1 rated personal trainer software!
#1. Massy Arias
@massy.arias
There is only one place to begin, and this is with Massy Arias. Based in LA, Massy is originally from the Dominican Republic. She brings the vibrancy of her roots to her Instagram posts. She is always in bold and bright athletic wear. She adds a whole host of different types of videos to her account, including sprinting, high-intensity interval training, yoga, and much more. On Saturday, she posts mobility exercises, helping followers keep injuries at bay.
#2. Idalis Velazquez
@ivfitness
Idalis Velazquez is an excellent example for any bilingual trainers out there. Her posts are written in both Spanish and English. This is a perfect way of reaching a wider audience. Plus, she makes her page personal. Not only does she post dumbbell, band, and bodyweight exercises, but she mixes in family photographs, helping to keep that human connection present. 
#3. Bret Contreras
@bretcontreras1
Although Bret has a playful nickname (The Glute Guy), he is very serious about health and fitness, focusing on glute development for strength and shape. When you look at his Instagram feed, you'll understand his niche straight away. You will find lots of creative techniques for building muscle, particularly those glutes. His account is also a great one to follow for strength training inspiration. 
#4. Jeanette Jenkins
@msjeanettejenkins
There is no denying that Jeanette Jenkins has amassed a massive following because of her star power. Known as The Hollywood Trainer, she has worked with the likes of Amber Rose, Alicia Keys, and Pink. However, not just her celebrity pals make her Instagram so appealing. She is very generous with her content, offering motivational quotes, healthy recipes, and a mixture of workouts. 
#5. Alex Silver-Fagan
@alexsilverfagan
Alex Silver-Fagan is another account worth following. She has created a 30-day squat challenge to reach more people via her Instagram marketing. Challenges are a great way of gaining more traction on social media! She also gives you a great taste of how to do Instagram stories the right way, as she gives a great look into her daily gym routines and moves people can try on their own.
#6. Dr Laura Miranda
@drlauramiranda
People like to follow personal trainers they can trust, and Laura Miranda is undoubtedly one of them. As a doctor of physical therapy, she knows everything there is to know about musculoskeletal health and fitness. Her account is dedicated to helping women get healthy, strong, and fit. She posts routines and moves that they can do anywhere, from the park to the comfort of their own home.
#7. Harley Pasternak
@harleypasternack
Harley's Instagram account gives you a bit of everything. That's because it feels like he knows everything and has achieved everything. He has worked with some of the most famous celebrities, including Kim Kardashian, Katy Perry, Halle Berry, Rihanna, Lady Gaga, and Arianna Grande. Some of them appear on his Instagram feed. Plus, he has an endless list of qualifications, including a Master of Science in nutritional sciences and physiology. 
Save time, and build your fitness business with the #1 rated personal trainer software!
#8. Robin Arzón
@robinnyc
If you are a fan of Peloton, you may be following Robin's account already. She started her journey as a lawyer but moved into the fitness domain. She is now the head instructor and the vice president of fitness programming at Peloton. On her Instagram, she teaches cycling and tread classes and shares snippets from her personal life.
#9. Amanda Bisk
@amandabisk
Another Instagram account worth following is Amanda Bisk, the former pole vaulter from Australia. After being diagnosed with chronic fatigue, Amanda turned to nutrition and fitness. She has since acquired degrees in exercise rehabilitation and sports science and coaching certifications in pole vaulting, yoga, and CrossFit. 
You will find some incredible images on her Instagram page, including gym exercise ideas and yoga flow videos. Plus, her landscape images are stunning. They almost look too good to be true! If you want to see a sleek, stylish, and well-put-together Instagram presence, you will struggle to find better. 
#10. Ben Bruno
@benbrunotraining
Ben Bruno is another personal trainer with a large following on Instagram and a significant presence. Ben has a no-nonsense vibe, which appeals to a lot of people. It is all about working smart and hard, with excuses not accepted! Ben posts his own workout videos on social media. He also posts casual workout videos of his clients. One of the refreshing things about Ben's accounts is that he incorporates a lot of moves that you are unlikely to have seen before, so there is always something new to enjoy. 
#11. Kaisa Keranen
@kaisafit
You may have seen this superfit lady going viral already, and there is good reason for this! Firstly, Kaisa has found innovative ways to work out, no matter where you are or the time of day. She even created a toilet paper workout. Yes, you did read that correctly! 
She has also come out with some of the most insane Tabata workouts. If there is one thing that Kaisa has mastered, it's thinking outside of the box, and this is something that all personal trainers should consider when trying to go viral and reach a broad audience. 
#12. Dr Jen Fraboni
@docjenfit
Dr Jen Fraboni has been committed to the world of health and fitness all of her life. Since she was a child, she has participated in dance, track and field, and gymnastics. This love of exercise and sport definitely comes through via her social media presence. She's also a physical therapist who approaches injury rehab and prehab with movement therapy.
In fact, she created her own programs, The Mobility Method and The Optimal Body, served up functional movement tips every day and hosted free mobility challenges online. Jen's is undoubtedly one of the best accounts for personal trainers to follow. You can get inspired with your marketing and learn more about the musculoskeletal system.
Save time, and build your fitness business with the #1 rated personal trainer software!
#13. Lauren Leavell
@laurenleavellfitness
Lauren Leavell has a story that will inspire a lot of people. She was working a standard 9 to 5 job in the corporate sphere only four years ago. However, Lauren decided she'd reached the end of the road in that world and it was time to move into the wellness space. Since then, she has never looked back. Her Instagram page is a great place for body positivity and inclusivity, helping to inspire and encourage followers of all shapes. She also connects with her followers regularly, answering any fitness questions. 
#14. Kira Stokes
@kirastokesfit

When it comes to health and fitness, Kira means business. She holds a wide range of fitness qualifications, ensuring her audience can trust her advice and workouts. Her certificates include a wide range of specialist certifications, including Kettlebell Concepts, ViPR, SBT-Suspended Body Weight Training, TRX, and postnatal fitness, amongst many more. She has also received a lot of attention for the different challenges she's created, including the 30-day plank challenge and the 30-day arms challenge. You can use these challenges for inspiration when creating your own. 
#15. Joe Holder
@ochosystem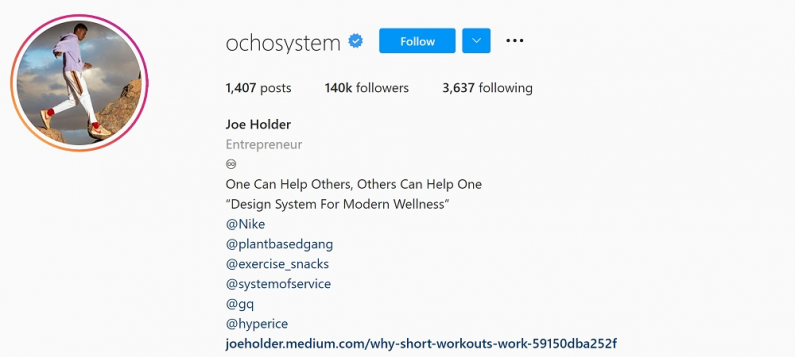 Save time, and build your fitness business with the #1 rated personal trainer software!
Finally, we can't talk about personal trainers who are killing it on Instagram without mentioning Joe Holder. Joe is a run coach, Nike trainer, and fitness nutrition specialist. You get to enjoy a great reading list on his Instagram account, as well as a significant dose of exercise science education. If that were not enough, you get a glimpse into how Victoria's Secret models and social media stars train. Joe taps into exercise and nutrition to train his clients for functional movement and performance, not only six-pack abs. There is something for everyone.
Wrapping Up
So there you have it: an insight into the top fitness expert Instagram accounts with substance. If you're currently building your online presence and would like to tap into the population hanging out on Instagram, you can get inspiration from the fitness experts listed above.