Social media quickly became one of the most effective ways to expand your fitness business. No matter what kind of company you run, there's a way to use your social media presence to grow your client base. For a personal trainer, platforms like Instagram are great options for reaching out to a new audience and attracting new potential clients.
Let's look at what potential Instagram provides if you include it in your fitness marketing strategy. According to Statista, Instagram has a whopping
2 billion active monthly users
.
According to Pew Research's latest results in the US,
59% of Instagram users
check their feed daily, and they
spend an average of 30 minutes
scrolling through content. And a last number to grab your attention, Instagram is the 5th most visited website in 2023. Only Google, YouTube, Facebook, and Twitter come before it.
Save time, and build your fitness business with the #1 rated personal trainer software!
What are the benefits of using Instagram to find new potential clients?
So, we've established that Instagram is fantastic for finding new potential clients, but what exactly can it do to help you achieve this goal?
Increases Traffic
Almost half of the world's population is now on the internet and uses social media. That's billions of potential eyes that could follow your Instagram profile. A strong Instagram presence attracts more of this audience, giving your personal training business a chance to shine.
Improves Brand Awareness
Brands that appear on social media regularly stay in people's minds. So when people see your personal training company more often, it'll increase awareness around your brand. The key is to be consistent with your
Instagram content marketing
.
Reinforces Good SEO
Good SEO practices are essential for establishing a digital presence. Social media posts offer great content in the form of photographs, blogs, and even videos that can be shared across different platforms. This can boost your site traffic and even increase your
Instagram SEO
.
Boosts Customer Engagement
People love engaging on social media. They enjoy making posts, sharing pictures, and speaking to friends and their favorite brands. Instagram is the perfect platform to encourage engagement, and it could boost your brand's popularity.
Humanizes Your Brand
Making your brand approachable can help it seem more human. For example, having someone behind a social media account on a platform like Instagram means people can speak and laugh with you.
Grows Your Network
Social media is for more than just finding new clients too. It can also be used as a business opportunity to network with other trainers or service providers, offering mutually beneficial agreements.
Lowers Advertising Costs
Social media is free for everyone, but it can be one of the most effective forms of advertising if you use it correctly. In addition, it's a cost-effective way to promote your brand to a broader audience.
Customers Can Spread The Word About Your Brand
Lastly, other Instagram users can help raise awareness around your brand by sharing images, quoting posts, and engaging with you via location tags and hashtags.
Now that we've covered the main benefits of using Instagram for your fitness marketing as a personal trainer, here's our advice on using it effectively to attract new clients.
Save time, and build your fitness business with the #1 rated personal trainer software!
Step 1. Decide Who Your Ideal Clients Are
You aren't the first personal trainer on Instagram and certainly won't be the last, so what makes you stand out?
What is your niche
, and how can you develop it? Marketing is one of the trickiest things to get right when you have to compete with thousands of other people doing the same thing, hence why you need something to help you stand out.
Your niche shares three qualities: it's something your clients enjoy, is achievable, and is something you're passionate about.
First, think about what makes your clients happy.
Are you targeting your services toward mothers who want to lose weight after pregnancy? You may want to help people who don't have access to expensive gym equipment. Or you have decades of experience getting stage-ready for bodybuilding competitions and want to share all that with aspiring bodybuilders who need someone to show them the way.
Next, think about what is achievable.
Keeping your goals and targets manageable is essential, so make sure your promise to your clients is achievable. For example, a mum managing family and work won't be able to be as consistent with their training as an athlete whose sole job is to become the best for their sport.
In the same way, a fitness competitor's weight loss goal within a short timeframe won't be realistic for an overweight person whose mindset and relationship with food will need changing before they can be consistent with their nutrition.
Lastly, pick something that you are passionate about.
Are you passionate about fighting the obesity pandemic successfully? Then that's your calling. Or you prefer working with people who are committed and ready to follow your workout plans to achieve their goals. Then even hobby athletes might be a better choice because exercise is already part of their journey, so you don't need to work on developing that habit.
Step 2. Create an Attractive Instagram Account
An attractive Instagram account means drawing in your niche audience with a bio and content they will find interesting, helpful, and relevant to their issues. Let's look at the different elements of an Instagram account and how you can make them attract your niche audience.
Set Up a Business Profile
You could use a personal profile to promote your fitness business, but then you'll lose out on all the business analytics features Instagram offers. Instead, you can create a completely new one or change your personal account into a business one if you use your name as your brand.
Create an Attractive Bio Section
Everything from the profile picture, the profile name, the short bio, and the links will need to have one purpose: to tell prospective clients who you are, whom you serve, how you help them, and what their next step is if they want to hear from you.
As you can see, your
Instagram bio
has a pretty important role in attracting the right followers to your profile.
Optimize Your Bio
It would help if you optimized your short bio description with keywords, but it also can't seem stuffy. It must offer the right amount of personal details, attract audiences, and convince them to engage with you.
This is where you can pull inspiration from your niche. For instance, your description could talk about helping mothers lose weight and stay fit after pregnancy or about your life as a parent and staying fit despite your job and raising a child.
Don't Forget the CTA (call-to-action)
A good CTA is critical to encourage your followers to get in touch with you or direct them to your website or other funnels where they can become a lead. Once they become a lead, you can keep them engaged through your
lead follow-up system
.
You can direct them to your website's contact form, to a linktr.ee page where they will be given multiple choices or, if you have an app, the link from which they can download it. The key here is to choose a CTA that will turn the person clicking through into either a follower or a lead.
Share Visually Appealing Content
When someone lands on your Instagram account, you want them to find it attractive at first glance. But unfortunately, they only see the tiles at this point, so they can only make out colors and shapes. So if the profile looks like a mess, they might not be inclined to click through to your posts.
This is why we recommend creating clean and branded designs for your evergreen posts with the help of a tool like Canva or even hiring a graphic designer. When you add photos from your phone, ensure they are sharp, well-lit, and shot from a good angle. Feel free to edit them slightly or use a filter if needed.
Save time, and build your fitness business with the #1 rated personal trainer software!
Step 3. Create an Instagram Content Strategy
Creating engaging content is one of the most critical aspects of marketing your personal training business on Instagram. You'll need to publish posts consistently to let people see you're an active business. So here's some advice for planning a content strategy.
Decide The Kind of Content You Want to Post
Usually, short-form videos and images are the best options for content types on Instagram. These are easy to digest and are much easier to use when compared to long text. However, you want to be consistent so that you're constantly posting quality content.
Posting the same type of content will help you get better at it. Whether writing appealing copy or using an image editing program, your content will gradually improve.
The type of content is a massive consideration because it'll be the main focus of your Instagram page. Here are a couple of examples of the route that your content could take:
Offer fitness advice to build trust and demonstrate your expertise as a personal trainer.
Share recipes and nutrition tips within your scope of practice to help people learn more about how to eat for their fitness goals.
Use pictures or videos of your personal training sessions to show what you're capable of and how you conduct lessons or post-workout snaps with your clients.
Share client success stories to demonstrate what you can help people achieve.
Ask people to share their experiences about specific topics.
Run Q&A sessions to engage your audience and find out what topics they are most interested in.
Occasionally, post about your services or the offers you run and ask people to join or share if they know someone who might be interested.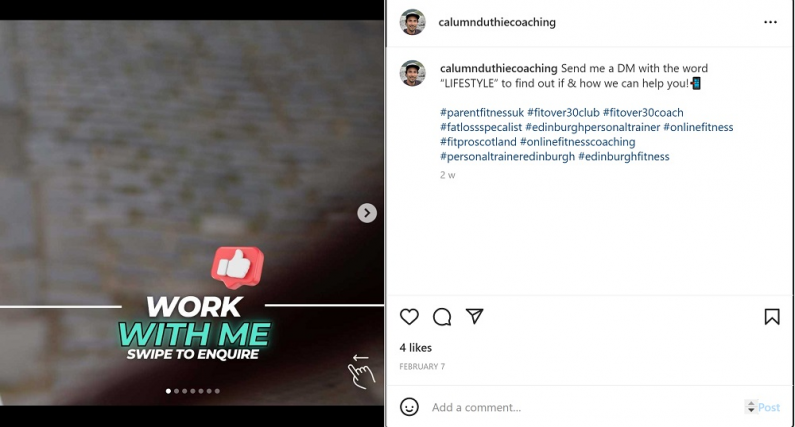 Inspirational posts might seem cliche, but you never know whom you will touch with it, so feel free to share some occasionally.
The limit is the sky and your creativity, really. It's also worth venturing into
Instagram Stories
to reach people who prefer that type of content.
Schedule Your Content
Feel free to use a content schedule. While the whole point of Instagram originally was to be spontaneous with visual posts, as a fitness business, you can schedule some of your evergreen content and then add the instant posts yourself while going about your business.
Think of ideas, brainstorm new content posts, and then "store" them for later use. Release everything regularly, and leave some gaps so you have space for reactive content. You can use a range of software to keep all your posts in a library and post them on a schedule you decide to use. Systems like
Later
,
MeetEdgar
, and
Recurpost
are great choices to save you a ton of time with the evergreen posts. As you develop new content, you can add them to the library.
Step 4. Use All Instagram Features
Instagram provides a powerful platform for personal trainers to market their products and services. With its various features, fitness businesses can reach and build relationships with their target audience.
Images
Images are the cornerstone of Instagram marketing. Image content effectively promotes fitness services, builds a following, and engages with potential clients. Personal trainers can use images to showcase their training methods, highlight their clients' successes, and demonstrate their expertise. In addition, personal trainers can build an online presence and drive interest in their services by sharing engaging and relevant images.
Reels
Instagram Reels
allow you to create short, entertaining videos to share with your followers. Personal trainers are increasingly turning to Instagram Reels for fitness marketing. They are a great way to showcase your expertise and engage with potential clients. You can create short, entertaining videos demonstrating client workouts, sharing tips and tricks, and providing information about your fitness services.
Reels are also a great way to build relationships with followers, as they can respond to comments and questions and create a sense of community. By leveraging the power of Instagram Reels, personal trainers can create an effective fitness marketing strategy and increase their visibility online.
Instagram Live
Through
Instagram Live
, you can offer tips and advice, provide workout demonstrations, host Q&A sessions, and even live classes. By engaging with your audience in real-time, you can create a connection with your followers and build trust. Additionally, you can use Instagram Live to promote special offers and discounts and share stories of success from your personal training clients. By leveraging Instagram Live as part of your fitness marketing strategy, you can establish your brand, increase visibility, and grow your fitness business.
Instagram Stories
Instagram Stories provide a fun and creative way to share updates with followers. You can use stories to engage with your current and potential clients. Stories are a great way to showcase your personality, as well as your expertise and experience as a personal trainer. You can post short clips of exercise demonstrations, share success stories from your clients, and provide tips and tricks for staying motivated and reaching goals. You can also use
Instagram Stories
to create a sense of urgency for a limited-time offer and encourage your followers to take action before the story disappears (24 hours).
Hashtags
Personal trainers can use hashtags to help promote their business on Instagram. Hashtags are a great way to reach potential clients and increase visibility. For example, you can use hashtags such as #personaltraining, #fitnessmotivation, or #workoutmotivation to get people interested in fitness. Additionally, you can use hashtags related to your specific services, such as #bootcamp, #yogaclass, or #strengthtraining.
Using hashtags, you can ensure your posts are seen by the right people and encourage engagement. In addition, hashtags are a great way to join conversations and connect with other fitness professionals.
Save time, and build your fitness business with the #1 rated personal trainer software!
Closing thoughts
Getting clients from Instagram can be challenging, but the main point to focus on is how you want to be perceived by your audience. After all, business social media is all about creating a buyer persona and using it to draw in audiences. You don't need to lie to your audience, though; just be truthful and create content that you feel passionate about. This is the best way to use Instagram marketing for personal trainers.